Polly's Quilts
Authentic Native American Made Star Quilts

"Poinsettia" - Full Size Holiday Star Quilt

Questions? See our FAQs (Frequently Asked Questions) page.

Welcome! | Star Quilt Gallery | Quilts by Gina! | FAQs | A "Star" is Born | Star Quilt Tradition
---
WELCOME!
Welcome to Polly's Quilts. Polly invites you to browse her site and see the beautiful Star quilts contained within. Each quilt is colorfully unique and of outstanding quality, materials, and workmanship - all sewn with Native American Pride by members of the Hidatsa, Arikara, and Mandan people of the Northern Plains.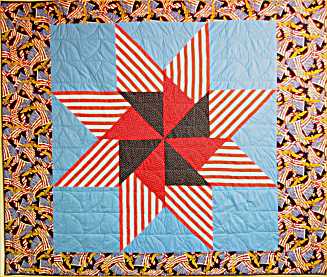 Polly's Quilts is located in New Town, North Dakota - a small town located on the shores of Lake Sakakawea on the Ft. Berthold Indian Reservation. Polly is of Hidatsa and Arikara descent and she is a member of the Three Affiliated Tribes (the Mandan, Hidatsa, and Arikara peoples). When Polly is not busy quilting and needs to give her hands a rest, she enjoys socializing with family and friends, fishing with her husband, or watching old "Dallas" re-runs; her favorite character is "Bobby".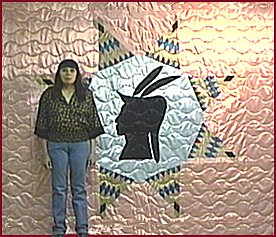 Polly finished her first Star quilt in 1971; her mother, a beautiful strong-willed Hidatsa woman, taught Polly how to quilt. No quilt was complete until her mother had inspected it. It was not unusual in the beginning for her mother to say "No good. Do it again."; Polly would then take the quilt apart and start over. To this day when it comes to quilts, Polly is a perfectionist. If she detects a seam that is not quite right, then out comes the seam-ripper and the offending seam.
Polly has for years provided Star quilts to her people; to be used for donations, gifts, and to keep warm on cold North Dakota nights. Polly thought that it would be nice to use the resources of the Internet to give the world's peoples a chance to become acquainted with the beauty of Star quilts and to possibly call one their own.
Polly thanks you for visiting. If you have any questions, you can contact Polly's Quilts at

polly@starquilts.com Thanks again, and may the Creator be with you!



Polly's Quilts is a proud member of the American Quilter's Society
Check out the following interesting Quilting Links!
For a great guide to quilting traditions of diverse ethnic groups see www.QuiltEthnic.com

At Susan Druding's Quilting Guide at the Mining Co. there is an excellent article on star quilts.

There have been visits to this site since March 24, 1998.